AgTech: AGCO Announces Go-Task Mobile App
AGCO Corporation announced that it will launch a new solution for wireless task data transfer. Go-Task will be one of AGCO's solutions for wireless transfer of task data to and from select AGCO machines and supported Farm Management Information Software (FMIS) programs.



New Satellite Based Mobile Application for Agriculture Water Tracking
Scientists at the University of Nebraska, Google and the University of Idaho in US, introduced an application called EEFLUX (Earth Engine Evapotranspiration Flux), which will allow anyone in the world to produce field-scale maps of water consumption. Application uses the METRIC ET process (thermally driven energy balance) as foundation. This operates on the Google Earth Engine and Computational Cloud.



AgTech- Get Mycotoxin Reports on Mobile Phones: NeoMyco App
NeoMyco application is designed for accessing and submitting your mycotoxin reports which will useful for receiving information on Mycotoxin content of crops in nearby area. Mycotoxin is one of the toxins prohibited in crops and food product by FDA. Use this app to access the latest weekly mycotoxin reports for the U.S. and Canada and to submit your own reports. You can also find quick links to Neogen's mycotoxin tests and more information.
NeoMyco Application is available on android and IOS application.
To access the app via the iStore, visit
https://itunes.apple.com/us/app/neomyco-reports/id893103368?mt=8
To access the app via Google Play, visit
https://play.google.com/store/apps/details?id=com.conduit.app_25d5b260f4594925a47004cbb3f7dc69.app
Application Screenshot: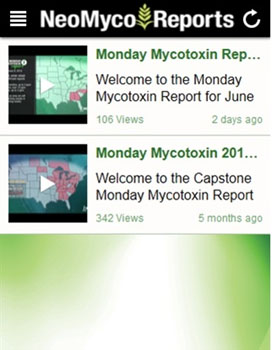 Source :
Neogen